Alexander Michael Deibel, August 17, 1993 to October 26, 2002

Our Mission Statement
Waifs & Strays Animal Rescue is an all-volunteer organization dedicated to the protection of companion animals by providing shelter, food, medical care, and love until their forever home is found through adoption. All orphans are provided safe transport, humane care, direct adoption or transfer to other licensed adoption agencies. Our work includes the promotion of responsible pet ownership as well as compassion and respect for all living things.


Dedication to a Loved One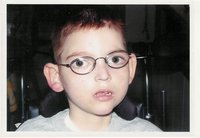 Waifs & Strays Animal Rescue was founded October 23, 2008 under the name of Alex's Adoptable Angels (aka: AAA Animal Rescue). After numerous calls from stranded motorist calling looking for toll truck service, we decided we needed to change of name. Laura Deibel, the rescue's founder, wanted the name to reflect the needs of animals that really had been left alone in the world, for one reason or another. Laura chose the two words that best described these homeless animals, the two words were Orphans and Strays - not too catchy when put together - so after a search using the thesaurus for Orphans, the British word WAIFS popped up. After a quick Google search of Waifs & Strays, a actual orphanage in Great Britain was found.
A death of one's family member is a tragic thing. A death of a child can be unbearable and changes a family forever. This was the circumstances from which our rescue came to be. Alexander Michael Deibel was born the summer of 1993, an adorable, healthy, baby boy. However, between ten and twelve weeks old, Alex began to have seizures. After several weeks of hospitalization, Alex was diagnosed with a malformed brain. The doctors informed us that Alex would most likely not live much more then two years of age, needless to say Alex conquered those two years plus seven more. After years of hospitalizations, surgeries, and therapy, Alex slipped away from our family leaving each of us with a big hole in our hearts and souls. In our efforts to cope with the sadness of losing such a special part of our family, we began volunteering at the new local animals rescue. Little did we know when we walked through those doors for the first time that working with the homeless animals would
be the key to start recovering from the awful hurt and pain of loosing Alex.
As volunteer's we socialized animals, learned to clean kennels, transported animals, handled animal intakes (private and through animal control), was taught adoption counseling, worked with animal behaviorists, became the rescue's medical manger, was elected on the board of directors, and became the book keeper for the shelter.
Being a volunteer gave us the experience which made it possible for us to start our own animal rescue In Alex's Memory.
REST IN PEACE ALEX, WE LOVE YOU AND YOU ARE MISSED EVERYDAY.